Assalammualaikum and Hello :D
I'm sure everyone loves to cook and some just don't know how to start. For that reason, I believe these 10 amazing tricks will help :) Well, at least you know how to eat a lot faster.
Picture said it all. Cut both the ends and slide a spoon between the flesh and skin. Tadaa.. or, should I just scoop it out and eat..
Just a straw, poke it into the center and you'll get a hulled strawberry in a second.. oh! Maybe that's why it is called straw-berry..they are meant to be together..okay, lame..
This is an unusual use for tongs I've ever seen and it's brilliant! Squeezing lemons? Lime? Oranges? No more fret I suppose.
Agaga..Makes me feel like a child. Taking an apple to school or work won't be the same again. When you cut an apple and it goes brown, it is due to exposure to air, which is oxidation.. Use a rubber band to hold cut apple together, less exposure to air and no more browned apple. :)
I just find it so useful.. Just cut the top of the box and cupcakes frosting won't be mess up anymore..
Next time you are slicing onions, just make sure you do it next to a lighted candle or turned on gas stove.. The fire will burn all the fumes from onions and won't cost you anymore tears. Now you're learning science here..
Why I didn't think of this before? This is so genius! Just turn muffin pan upside down and mold the cookie dough on it. Bake! Ready to serve..and eat all of them..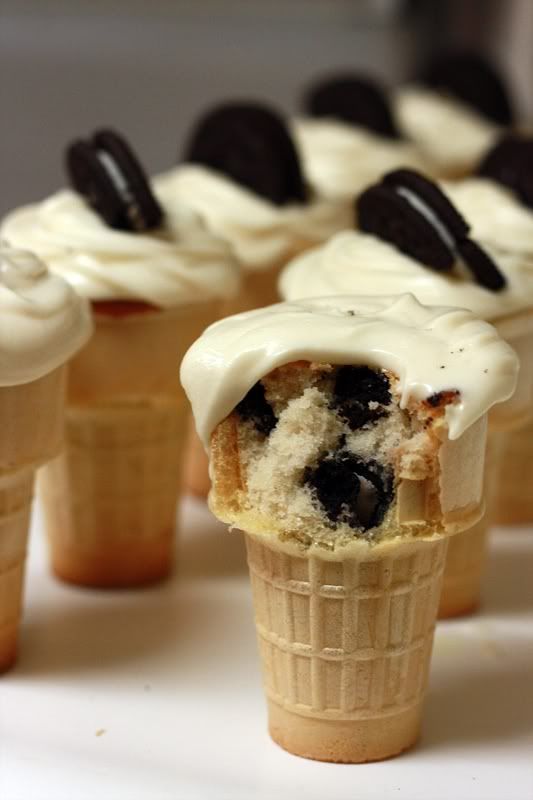 No more cupcake holders, no more waste.. Eat all the cupcakes! Plus, it looks like an unmelting ice cream, with cake inside.. and crunchy cone outside.. Click the link for the recipe :)
Ice cream cake might be hard as stone and difficult to cut. Well, I'm sure the same goes with no-bake cheese cake. Just run the knife under hot water or soak it (saw it in bakery shop) and as the knife is hot, the cake will be easily to cut.. I'm sure you'll get a clean cut..well, at least try to rewarm the knife between slicing.
That's all I can get for all of you..So, enjoy cooking!